Image

Image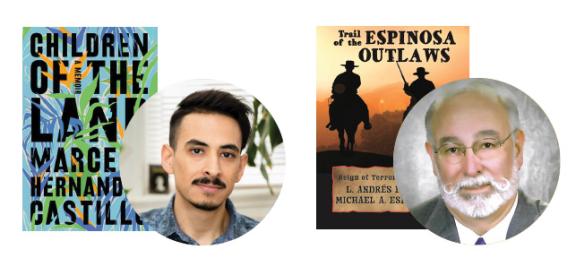 Celebrating 10 years!
September 15 & 16, 2023   |   Rawlings Library
Featuring Marcelo Hernandez Castillo and Michael Espinosa, Ed. Come and join us for free in-person author talks and a lunch. *Please RSVP where noted.
Sept. 15, Noon  |  

Marcelo Hernandez Castillo
Author Marcelo Hernandez Castillo will be at the Rawlings Library on September 15th at 12:00 pm for our 10 year anniversary of the Latino/a/x Book Festival.  Lunch will be provided in the Ryals Room, registration is required and space is limited.  Please RSVP here or call 719-562-5600.
Marcelo Hernandez Castillo is the author of Children of the Land: a Memoir; Cenzontle, which was the winner of the A. Poulin, Jr. prize; and Dulce, winner of the Drinking Gourd Prize. He is a founding member of the Undocupoets, which eliminated citizenship requirements from all major poetry book prizes in the U.S,  and was recognized with the Barnes and Noble Writers for Writers award. He was the first undocumented student to graduate from the Helen Zell Writers Program at the University of Michigan. He currently teaches in the creative writing program at St. Mary's University, and the Ashland Low-Res MFA Program, as well as poetry workshops for incarcerated youth in Northern California as the Yuba and Sutter County poet laureate.
September 16, 10:30 a.m.   |  Michael Espinosa, Ed.
Join local author Michael Espinosa, author of Trail of the Espinosa Outlaws at the Rawlings Library Ryals Room on the 4th floor. No registration required. Refreshments will be served.
Trail of the Espinosa Outlaws is a western novel involving two families of Espinosas, their exploits, Spanish land grant issues, and treatment pursuant to the Treaty. Most of the action takes place in Southern Colorado.    It has taken three generations of Espinosas to bring this book to light. Humberto Espinosa, Michael's grandfather, told the family stories of revenge in Colorado, New Mexico and Texas over murders and assaults committed by the invading Americanos after the signing of the Treaty of Guadalupe Hidalgo.
 Humberto's son, L. Andrés Espinosa (and Michael's father) wrote the book during his lifetime.  Michael A. Espinosa, has edited the book and has been published by Vanishing Horizons of Pueblo.  Espinosa was the Director of the Area Agency on Aging in Huerfano and Las Animas counties for six years. He is also a lawyer currently doing Pro Bono work for Colorado Legal Services.