Image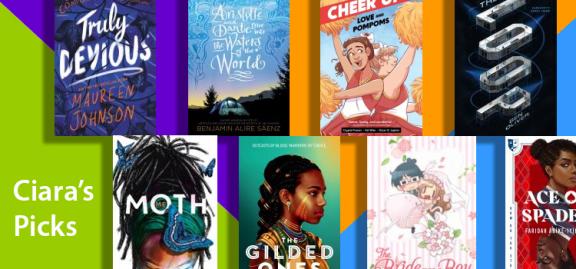 PCCLD"S Teen Librarian Ciara briefly discusses and recommends some YA titles.
Newest
Description: A coming-of-age story about transgender tween Obie. Obie knew his transition would have ripple effects. He has to leave his swim coach, his pool, and his best friends. But it's time for Obie to find where he truly belongs. As Obie dives into a new team, though, things are strange. Obie always felt at home in the water, but now he can't get his old coach out of his head. Even worse are the bullies that wait in the locker room and on the pool deck. Luckily, Obie has family behind him. And maybe some new friends too, including Charlie, his first crush. Obie is ready to prove he can be one of the fastest boys in the water--to his coach, his critics, and his biggest competition: himself.
Recommendation: First, an admission. I "met" Schuyler Bailar at an American Library Association conference back when I was working on my degree to become a librarian, and though I had the book that had his first published short story in it, when I heard he was publishing a novel, I knew I needed to read it. He's just a genuine, kind man and I immediately liked him. And the book, which I found out he was working on then, is an own voices book. Obie is mixed race – Korean and white. And while he worried quite seriously about whether his Catholic Korean grandparents would reject him, he is profoundly lucky as a trans young man in that his entire family are tremendously supportive. Of course, that doesn't mean life is easy. What I enjoyed most about Obie's story is his relationship with his English teacher, a woman many might call odd who works with Obie every week after school to improve his writing, which at novel's start is less than stunning. Her support of Obie's growth might be the most important he has, as she is his rock at school, where he must avoid the bully who was once his friend, and watch the girl who was once his best friend abandon both him and herself in an effort to fit in. While Obie's first passion is swimming, and his drive to excel in swimming against other boys is foremost in his mind and the book, his growth outside the pool is both as well-investigated and as important.
Description: Punching Bag is the compelling true story of a high school career defined by poverty and punctuated by outbreaks of domestic abuse. Rex Ogle here describes his struggle to survive; reflects on his complex, often paradoxical relationship with his passionate, fierce mother; and charts the trajectory of his stepdad's anger. Hovering over Rex's story is the talismanic presence of his unborn baby sister. Through it all, Rex threads moments of grace and humor that act as beacons of light in the darkness. Compulsively readable, beautifully crafted, and authentically told, Punching Bag is a remarkable memoir about one teenager's cycle of violence, blame, and attempts to forgive his parents--and himself.
Recommendation: First off, I want to issue a warning. I received the gift of never having an adult lay a hand on me as a child. But those who have experienced abuse and trauma might be triggered by this book. My emotional response was powerful – there were times when I had to stop reading Punching Bag because, like Rex, I felt like I couldn't take it anymore – living in constant fear that he might inexplicably say or do something, or anything really, to provoke either his mother or his stepfather. That might not sound like a rousing endorsement. But experiencing Rex's memoir with him (keep in mind I have been called an over-empathizer), was also fascinating, complex, and thought-provoking. What is perhaps most stunning about Rex is his REFUSAL to ever hit anyone. Not in self-defense. Not in anger. And astonishingly, never in a loss of self-control. The presence in his life of his unborn baby sister, grown as she would have had she not died as a result of domestic violence, gives him the resolve he needs, not only to survive and to protect his baby brother, but also never to react with violence. Most fascinating to me is the way that Rex is able to recognize and break the cyclical nature of abuse – he sees his stepfather's brothers tell him to get sober and stop becoming his father, and  he gathers what little hints he can of all of the trauma that his mother has worked to forget or forced into her twisted definition of love. His step-father does try, though without success, due in part at least to Rex's mother's fierceness and twisted insistence that he deal with their arguments physically (she has come to define love through pain). Through all of this complex work of honest recognition, Rex must simultaneously remain on guard, and though his sister is a rock of his strength, she is also a symbol of the way trauma twists our relationship to ourselves – he feels guilt at her death. His mother told him, at age seven, that it was his fault, but he also believes her because he was enjoying a brief respite from fear away from home at the time – not there to try to protect his mother. The book raises compelling questions – can you forgive someone if you still fear them? Can you heal from traumatic wounds incurred at the very foundation of your self? 
Description: Darius Kellner speaks better Klingon than Farsi, and he knows more about Hobbit social cues than Persian ones. He's a Fractional Persian-half, his mom's side-and his first-ever trip to Iran is about to change his life. Darius has never really fit in at home, and he's sure things are going to be the same in Iran. His clinical depression doesn't exactly help matters, and trying to explain his medication to his grandparents only makes things harder. Then Darius meets Sohrab, the boy next door, and everything changes. Soon, they're spending their days together, playing soccer, eating faludeh, and talking for hours on a secret rooftop overlooking the city's skyline. Sohrab calls him Darioush-the original Persian version of his name-and Darius has never felt more like himself than he does now that he's Darioush to Sohrab. 
Recommendation: Yes, this is an older book. That doesn't mean it isn't worth checking out! So yes, Darius suffers from clinical depression, and one thing the book does particularly well is demonstrate how one's observations, or even deeply held beliefs, about relationships can be colored by that depression. The novel's exploration of Darius' relationship with his father, whom Darius calls an "ubermensch" is quietly skillful in this sense. Though Darius suffers from feeling not Persian enough during his visit to Iran, the feeling is not static. Yes, his relationship with Sohrab, a defining one for Darius, contributes to the shift in Darius' feelings about his fractional self, but his development in Yazd is not tied to one person. Such a story would not be nearly as interesting. Darius' relationships with his grandparents, as well as with his parents and sister, and to an extent with his more extended family, all play critical roles in how the Darius who arrives in Iran is not the same as the Darioush who returns to the US. The novel, in addition to its skillful and fascinating depiction of complex relationships and development, is also funny and charming! Have a go!
Previous Picks
Realistic/Dystopian
Winner of the Schneider Family Book Award for Teens 2021
A Kirkus Best Book of 2021
Part coming of age, part call to action, this fast-paced #ownvoices novel about a Deaf teenager is a unique and inspiring exploration of what it means to belong.
Smart, artistic, and independent, sixteen year old Piper is tired of trying to conform. Her mom wants her to be "normal," to pass as hearing, to get a good job. But in a time of food scarcity, environmental collapse, and political corruption, Piper has other things on her mind--like survival.
Piper has always been told that she needs to compensate for her Deafness in a world made for those who can hear. But when she meets Marley, a new world opens up--one where Deafness is something to celebrate, and where resilience means taking action, building a community, and believing in something better.
Published to rave reviews as Future Girl in Australia (Allen & Unwin, Sept. 2020), this empowering, unforgettable story is told through a visual extravaganza of text, paint, collage, and drawings. Set in an ominously prescient near future, The Words in My Hands is very much a novel for our turbulent times.
Fantasy
Graphic Novel
Contemporary Novel
A Stonewall Honor Book
A Reese's Book Club YA Pick
Liz Lighty has always believed she's too black, too poor, too awkward to shine in her small, rich, prom-obsessed midwestern town. But it's okay -- Liz has a plan that will get her out of Campbell, Indiana, forever: attend the uber-elite Pennington College, play in their world-famous orchestra, and become a doctor. But when the financial aid she was counting on unexpectedly falls through, Liz's plans come crashing down . . . until she's reminded of her school's scholarship for prom king and queen. There's nothing Liz wants to do less than endure a gauntlet of social media trolls, catty competitors, and humiliating public events, but despite her devastating fear of the spotlight she's willing to do whatever it takes to get to Pennington.The only thing that makes it halfway bearable is the new girl in school, Mack. She's smart, funny, and just as much of an outsider as Liz. But Mack is also in the running for queen. Will falling for the competition keep Liz from her dreams . . . or make them come true?
Thriller
Go inside a heartbreaking fictional school shooting, minute-by-terrifying-minute. Everyone has a reason to fear the boy with the gun...
10:00 a.m.:The principal of Opportunity, Alabama's high school finishes her speech, welcoming the entire student body to a new semester and encouraging them to excel and achieve.
10:02 a.m.:The students get up to leave the auditorium for their next class.
10:03 a.m.:The auditorium doors won't open.
10:05 a.m.:Someone starts shooting.
Over the course of 54 minutes, four students must confront their greatest hopes, and darkest fears, as they come face-to-face with the boy with the gun. In a world where violence in schools is at an all-time high and school shootings are a horrifyingly common reality for teenagers, This Is Where It Ends Is a rallying cry to end the gun violence epidemic for good.
A Buzzfeed Best Young Adult Book of the Decade
A Paste Magazine Best Teen Book of the Decade
A Book Riot Biggest YA Book of the Decade
A Professional Book Nerds Best Book of the Decade
A Bustle.com Most-Anticipated YA Novel
A Goodreads YA Best Books Pick
A Goodreads Choice Award Finalist for Young Adult Fiction
Kids Indie Next List Pick
"Marieke Nijkamp's brutal, powerful fictional account of a school shooting is important in its timeliness." --Bustle.com
"A gritty, emotional, and suspenseful read and although fictionalized, it reflects on problematic and harrowing issues across the nation." --Buzzfeed
"A compelling, brutal story of an unfortunately all-too familiar situation: a school shooting. Nijkamp portrays the events thoughtfully, recounting fifty-four intense minutes of bravery, love, and loss." --BookRiot
Thriller
Then the guards at Hope start acting strange. And one day...they don't show up. But when the teens band together to make a break from the facility, they encounter soldiers outside the gates. There's a rapidly spreading infectious disease outside, and no one can leave their houses or travel without a permit. Which means that they're stuck at Hope. And this time, no one is watching out for them at all.
As supplies quickly dwindle and a deadly plague tears through their ranks, the group has to decide whom among them they can trust and figure out how they can survive in a world that has never wanted them in the first place.
Nijkamp explores the identities of a large number of the teenagers left in Hope, but focuses on the three who trade off narration: Logan, Emerson, and Grace. Each lacks the ability to trust, and this lack is tied to what led them to Hope. Logan is mute, and initially communicates only with her sister and only friend Leah – through a sign language known only to them. They were foster children who had run away, and what landed them in Hope was a combination of ableism towards Logan and their attempt to destroy a place rife with danger for young people like themselves. 
Emerson is a trans male who was thrown out of his religious household when he came out. Emerson is lost – he has lost his home, his community, and his God, and his family refused to help him when he was arrested. He trusts no one, and feels bitterly alone. 
Grace is full of anger – she came to Hope for intervening to stop a man who was sexually assaulting a girl. Her ability to trust is almost entirely destroyed, though she does trust one person – her friend Casey, to whom she felt drawn immediately once in Hope. 
While the plague is what drives the action in this book, what I most enjoyed was the gradual growth of the characters in Hope – particularly Logan, Emerson, and Grace, though they face challenges that are clearly at the very edge of their capacity. When Leah falls sick to the plague, Logan must not only develop ways of communicating with other youth, she must also figure out how she, without her sister, can contribute to her sister's care and the group's survival. For the first time, everyone in Hope sees her intelligence, bravery, and empathy. 
Almost by accident, Grace becomes the leader of the youth who stay at Hope, ensuring that necessary jobs are meted out, that the food is properly rationed, and leading parties to find more food when it threatens to run out. She shoulders immense responsibility, and often seems at a breaking point, especially since Casey has taken on the job of caring for the sick and dying. But while Grace has been misunderstood and wronged, and her anger is often dangerous, she learns how to channel it into action, and indeed into an act of selflessness that saves those who have become her family.  
Emerson's life, with the arrival of the plague, seems to simply have gone from bad to worse. But he too finds strength within the past that has been so painful to contemplate, playing his violin for the suffering and the dead, and claiming the job no one else would ever want – gravedigger for those lost to the plague. Having experienced intense loneliness, Emerson wants no one to be alone, even in death, and sits with each grave, talking to its inhabitant. He, who has been so painfully abandoned by those closest to him, eventually finds trust and love in the challenges met by Hope's youth.  
This book, though I suppose it is a thriller, is most attractive to me as an investigation of the intense resilience that young people possess.
Graphic Novel
After a gunshot leaves her paralyzed below the waist, Barbara Gordon must undergo physical and mental rehabilitation at Arkham Center for Independence. She must adapt to a new normal, but she cannot shake the feeling that something is dangerously amiss. Strange sounds escape at night while patients start to go missing.
Is this suspicion simply a result of her trauma? Or does Barbara actually hear voices coming from the center's labyrinthine hallways? It's up to Barbara to put the pieces together to solve the mysteries behind the walls.
In The Oracle Code, universal truths cannot be escaped, and Barbara Gordon must battle the phantoms of her past before they consume her future.
FUNNY HORROR
MYSTERY/THRILLER/ "CLASSIC YA"
REALISTIC
4 starred reviews! * An Indie Next List Pick! * Named one of Bank Street College of Education's Best Children's Books of the Year!
Two-time Edgar Award finalist Lamar Giles spotlights the consequences of societal pressure, confronts toxic masculinity, and explores the complexity of what it means to be a "real man."
Del has had a crush on Kiera Westing since kindergarten. And now, during their junior year, she's finally available. So when Kiera volunteers for an opportunity at their church, Del's right behind her. Though he quickly realises he's inadvertently signed up for a Purity Pledge.
His dad thinks his wires are crossed, and his best friend, Qwan, doesn't believe any girl is worth the long game. But Del's not about to lose his dream girl, and that's where fellow pledger Jameer comes in. He can put in the good word. In exchange, Del just has to get answers to the Pledgers' questions...about sex ed.
With other boys circling Kiera like sharks, Del needs to make his move fast. But as he plots and plans, he neglects to ask the most important question: What does Kiera want? He can't think about that too much, though, because once he gets the girl, it'll all sort itself out. Right?
"With true-to-life characters and a straightforward handling of sex, including often ignored aspects of male sexuality, Giles's thoughtful, hilarious read offers a timely viewpoint on religion, toxic masculinity, and teen sexuality." (Publishers Weekly, "An Anti-Racist Children's and YA Reading List")
GRAPHIC NOVEL