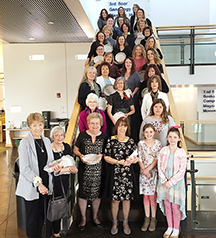 Age Group: Adult
Deadline: Feb. 7, 2020
Awards Ceremony: March 13, 2020

• 2020 paper Entry Form (print or download, fill out and email to sara.schwartz@pueblolibrary.org, or submit online below.)

• Previous Nominees

Pueblo City-County Library District is now accepting nominations for the woman you want to honor. These awards have honored women who have made important contributions to our community and have celebrated the important role that women have played in Pueblo's history. These awards provide an opportunity for any individual or organization to honor a special woman who has made an impact. The only criteria is that the woman must be a resident of Pueblo County currently or during the time the award honors. The person does not have to be living to be honored.


Pueblo City-County Library District published a book recognizing 25 years of honorees of the Outstanding Women Award. Each of the more than 500 award-winners' biographies is included. Inquire with Sara to purchase a copy.

Lunch reservations required by March 2, 2020.
To reserve online click here.