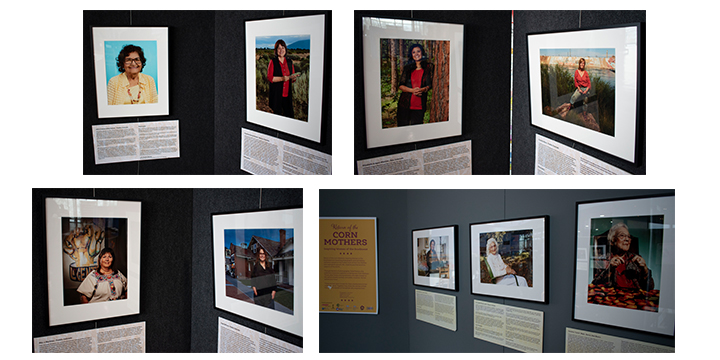 PUEBLO, Colo. — The Return of the Corn Mothers: Inspiring Women of the Southwest celebrates and honors women who, often without fanfare, help to shape and nurture their community.
This traveling exhibit, it is a collection of portraits and stories of multi-generational and multi-cultural women who embody the legend of the Corn Mother — a central figure in the story-telling tradition of the Pueblo people who represents growth, life, creativity and the feminine aspects of the world. The Corn Mother is considered synonymous with Mother Earth.
Six local women are now members of this select group: Dawn DiPrince, Charlene Simms, Rita Martinez, Elizabeth Aragon-Blanton, Alfiria Causaus Salazar and Cynthia Ramu. Other new inductees include Lisa Saldana of Denver, Colo. and Ann Redman of Cheyenne Wyo.
"This show is about women from 29 to 89 who tell stories that help shape and nurture our country. They represent the circle of life and the continuation of a never-ending story about love and perseverance," said curator Dr. Renee Fajardo.
Sponsored in part by Metropolitan State University of Denver's Department of Chicana/o Studies Journey Through Our Heritage program and the Colorado Folk Arts Council, the exhibit is currently on display in the InfoZone on the fourth floor of Robert Hoag Rawlings Public Library, 100 E. Abriendo Ave until Nov. 30. The exhibit is free and open to the public.
In early November at Rawlings Library, a Dia de Los Muertos celebration will feature altars and art exhibitions by some of the Pueblo Corn Mothers.
 History of the Corn Mothers Exhibition
Todd Pierson, photojournalist, has worked for more than a decade to capture the images of present-day Corn Mothers. This nationally-recognized exhibit has traveled to more than a dozen universities and museums throughout Arizona, Colorado, New Mexico and Wyoming in the past decade.
 The exhibition began in 2007, partly funded by a Rocky Mountain Women's Institute project grant. Originally, it included portraits and stories of eight women who were considered Corn Mothers in the Southwest. Motivated by the concern that as the region's populations grew, the history and stories of significant women who formed the foundation of their communities would be forgotten, the exhibit expanded to 29 women after receiving a 2009 Colorado Endowment for the Humanities grant. In 2016, six new women from the San Luis Valley were inducted for the Adams State University exhibition. With 2019, induction included six women from Pueblo, Colo. The exhibit now boasts 48 portraits as well as full-color printed anthology that includes the women's pictures, biographies, philosophies and life sayings. In addition to the individual's story, each Corn Mother pays homage to a woman who has influenced or mentored her.