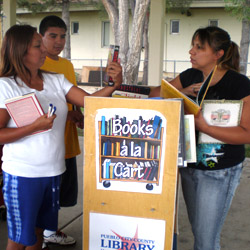 The goal of Books a la Cart is to make library materials (books, audio books, large-type books, etc.) readily available to reluctant library users or those with limited access to library facilities in the Pueblo area.
To make these resources readily available, a cart of library materials will be displayed for check-out on site once a month at a variety of community partnership locations. No library card is needed to check out Books a la Cart materials. All materials are donated and/or withdrawn from the PCCLD system, then hand-picked, cleaned and repaired, and loaded onto the bright red Books a la Cart browser cart for dispersal into the community.
The Books a la Cart laptop accompanies the books for persons interested in accessing PCCLD's website, or venturing onto the internet.