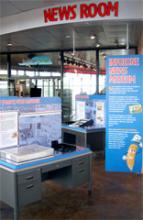 Saturday, April 14, 2012 - 12:00pm
Noon-2 p.m. — Family activities
5 p.m. — An American Tapestry Concert
6-8 p.m. — Grand re-opening reception & opening of Fry-Ark 50 Years Exhibition
All events at the Rawlings Library, InfoZone Theatre - 4th floor.
The InfoZone News Museum celebrates its grand reopening with exciting new exhibits and fun family events! New, interactive exhibits have recently been added to the InfoZone, which make a public debut at the grand reopening celebration.
Visitors to the newsroom can create a personalized newspaper page and learn how to report the news. The Headlines of Pueblo History exhibit features a unique way to interact with history though a Microsoft Surface, a multi-touch digital display that is controlled with the touch of a finger.
In conjunction with the InfoZone grand re-opening, an exhibit celebrating the 50th anniversary of the Fry-Ark project will open on April 14 and show through May 20. The Fryingpan Arkansas project was responsible for the Pueblo reservoir and much of the water recreation enjoyed today. President Kennedy dedicated the Fryingpan Arkansas project in 1962. The Fry Ark 50 Years exhibit features the pen that Kennedy used to sign off on this project, video of his historic speech, historic news articles and a map of the project.
An American Tapestry combines literature, music and art for concert of pure delight! America's favorite work songs and more will be performed by world-class musicians and storytellers Donna Wissinger and Joy Myers. In this election year, be inspired and dazzled by American beauty and hope through music, story and song in An American Tapestry.
All events are free and open to the public. For more information on any of these events, please call 562-5604