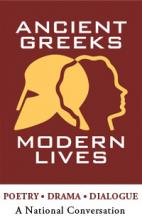 Saturday, March 17, 2012 - 12:30pm
Reading - 12:30 p.m.
Acting workshop - 2 p.m.
Ancient Greeks/Modern Lives will illustrate how Ancient Greek drama themes still resonate with the social issues of today. At this special program, the New York-based Aquila Theatre will present a reading and workshop around the theme of "Stranger in a Strange Land." The dialogue will focus on encountering new communities, the concepts of exploration and discovery, the role of immigration and colonization and the issues that arise when one culture clashes with another.
This program is possible due to major grant from the National Endowment for the Humanities, with additional support from Colorado Humanities. For more information on this event, please call 553-0220.